Overview of Public School Teacher Pay and Benefits
By citing one kind of pay increase, the state-funded Cost of Living Adjustment (COLA), the statement creates the impression that public school teachers have received no pay increases in six years. Actually, public school teachers, like other public employees, receive several kinds of pay increase, some of which provide large pay raises in some years and small or no raises in other years.
People in Washington want school teachers to be well paid, and they are generous in paying taxes to provide public money for all school district employees. The public can only understand how well teachers are being paid by looking at all of the kinds of taxpayer-provided compensation these public employees receive.
Teachers receive a level of base pay from the state, including automatic yearly pay increases, known as step increases. Step increases are paid separately from COLAs.
In addition, local school districts provide teachers annual pay increases through supplemental contracts, called time, responsibility and incentive (TRI) pay. Local school districts further increase teacher pay through per diem, hourly and stipend rules.
Depending on how they are counted, teachers can receive seven different kinds of pay, some or all of which can be increased in any particular year.  For example, the base pay state taxpayers provide to public school teachers has increased by about 9% over six years.
Teacher base pay average in 2006-07 ................ $47,890

Teacher base pay average in 2012-13 ................ $52,256

Amount of increase ..................................... $4,366 (+9.1%)
Over the same period, local taxpayers have provided additional pay increases to public school teachers through supplemental, per diem, hourly and stipend pay, resulting in a total average increase of about 16%.  Here are the total averages.
State and local teacher pay average in 2006-07 .......... $55,440

State and local teacher pay average in 2012-13 .......... $64,662

Amount of increase (state and local) ...................... $9,222 (+16.6%)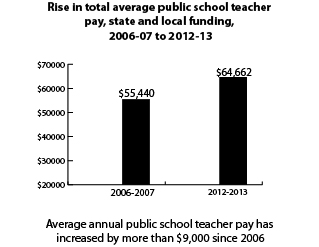 To show how the teacher compensation system works, below are examples of pay increases from the union's collective bargaining agreement with Seattle Public Schools. Collective bargaining agreements are negotiated in secret, but their final terms are later made public.
Kinds of Public School Teacher Pay
State base pay - basic contract of 180 days, including annual step increases, $34,048 to $65,759, depending on level of training.

Local district supplemental contracts – in addition to pay received from the state, $9,472 to $18,965, depending on level of training. Teachers in Seattle can receive up to $84,724 for the 2013-14 school year.

Per diem pay – teachers receive additional pay for taking on additional daily tasks.  Examples include $34.69 per hour for teaching in-service classes, designing or writing new curricula, and $25.73 per hour for serving on curriculum revision committee, running a coaching clinic or similar work.

Hourly pay – teachers receive additional pay for taking on extra work hours.  Examples include $16.71 per hour for participating in designated "voluntary" in-service work, and $36.07 per hour for attending meetings at the request of district administrators.

Stipend pay – teachers can receive additional pay for taking on one or more of up to 121 different kinds of work assignments, such as soccer coach, band leader or other activity. Annual stipends range from $659 to $10,582 a year.
Teacher Benefit Package
In addition to increases in base pay, state taxpayers provide public school teachers a generous benefits package, compared to what their private sector peers typically receive. The standard health care benefit is $9,216 a year, or $768 a month.  The standard benefits contribution is 18.6 % of salary, including FICA and other benefits.
Local school districts can provide benefits in addition to what state taxpayers provide.  For example, the Seattle School District gives teachers the following benefits:
Seven options for health care coverage;

Dental and vision coverage for family members;

Life insurance;

Long-term disability insurance;

Sick leave and personal leave, up to 12 days;

Sick leave cash-out, retiring employees can receive cash for unused sick days;

Public salaries and benefits for union executives.
Conclusion
Executives at the teachers' union have announced that gaining access to greater increases in pay is their primary lobbying goal in the 2014 legislative session. To support this message they argue that teachers have not received a state-funded COLA for six years. Some proponents argue this means teachers have either not received a pay increase or received a pay cut, because teacher pay has not gone up as much as they think it should have. This view ignores the numerous ways in which state lawmakers and local school boards increase teacher pay on an annual basis.
The assertion that public school teachers have not received a state-funded COLA also ignores the growing value of the benefits package teachers receive, compared to the typical benefits package their peers in the private sector receive.
To argue that public school teachers are chronically underpaid makes union executives appear ungrateful, as if they do not recognize the real sacrifices working people in Washington make to fund the public schools. Parents are deeply concerned that their children receive a high-quality public education, and taxpayers, both state and local, are generous in providing money for public school budgets, salaries and benefits, including adding an additional $1.6 billion in new education funding in 2013.
Overall, public school teacher pay and the value of the benefits package has increased in the last six years.  The numbers show there has been no "cut" in teacher pay, even though one kind of pay, the COLA, has not been increased.
As the question of teacher COLAs, pay increases and benefits are debated, policymakers and the broader public need a full and accurate view of all sources of teacher pay, rather than focusing on only one form of pay provided by the state.